Blood Drive - January 30
On Saturday January 30, St. Athanasius hosted its 2nd community blood drive. With the help of the American Red Cross and our community, we collected 36 units of blood. Each donation has the potential to save 3 lives. Therefore, this drive resulted in the possibility of helping over 100 people in need. St. Athanasius hopes to make these blood drives a regular occurrence within our community. The demand for blood donations are always constant and we hope to do our part to continually help aide in that need. We thank you for your support (past, present, and future) and we pray that you are well!
---
from St. Barbara's Philoptochos

Your donated items and generous monetary donations that you contributed to our outreach effort for Rosie's Place, was a great success. We are now purchasing and assembling approximately 160 Dignity Kits for the womans' shelter, in Boston.
---
from Fr. Bob
It is with profound love and respect that we congratulate all the newly elected and appointed members to our Parish Council.During the last 4 years Dean Ioakimidis had alongside his co-Council members kept the beacon of St. Athanasius the Great lit and moving forward despite great opposition. What was gravely needed was leadership to actualize the objectives of the Parish.Upon my arrival as Proistamenos at St. Athanasius the Great, I had three immediate strategic goals. First to hold a long-awaited General Assembly Meeting. Second, to hold Parish Council elections, and third to have our newly elected Parish Council member elections ratified. I am happy to announce that all three of my objectives have been met. We look forward to a very blessed new chapter in the life of the church. Please join us in any way that your heart moves you to serve the church and join the mission of the church to bring the light of Christ to everyone.

2021 PARISH COUNCIL OFFICERS
President - Stefanos Bouboulis
1st Vice President - Mike Terzakis
2nd Vice President - Elias Patoucheas
Treasurer - Peter Gennis
Treasurer 1 - Eleni Pesiridis
Treasurer 2 - Tony Dakopoulos
Treasurer 3 - Mark Ypsilantis
Secretary - Gary Makredes
Asst. Secretary - Vicki Konstandakis
MEMBERS
Kosta Arvanitis, Dean Ioakimidis, S. Nicholas Kriketos, Charlie Pappas, Peter Stanitsas, and Nicole VanKuilenburg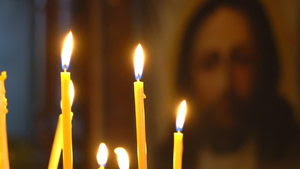 We understand that during this difficult time of the pandemic, it can be difficult to be physically away from your church. While we can pray from home, you may miss the ability to light a candle in church.
Let us light a candle for you at St. Athanasius.

"I am the light of the world; he who follows me will not walk in darkness, but will have the light of life." (John 8:12)
---
---
ATTENTION
Please be aware of an email scam impersonating Fr. Robert Archon
Please
note that many parishioners have reported receiving an email from Fr. Bob asking for a favor and soliciting donations in the form of gift cards. These emails are a scam using a fake email account impersonating Fr. Bob. While the "From" name on the account uses his name, it is from an imposter gmail.com account.
Please

disregard

these email and do not respond to all such messages as they are not from Fr. Bob.
Click here for more information on how to protect yourself from email scams.
---
An Update on the Opening of our Church



From His Eminence Metropolitan Methodios:
If a parish, after careful and deliberate preparation, considers that they are able to meet all of the State and Local guidelines, they may begin to open their doors as early as this coming Sunday, May 24. >>> Continue reading here
---
---
Fr. Bob is available 24/7, please feel free to call the Parish Office at (781) 646-0705 to schedule an appt, or if this is of an urgent matter, please feel free to reach Fr. Bob on his cell phone, (603) 498-1685.

---

View our Calendar
---
Join our e-mail list to
receive our newsletter!
---

Regular Church Service Schedule


Orthros 8:45 a.m. - Divine Liturgy 10:00 a.m.
Parish Office Hours

Monday - Wednesday - Friday
10:00 a.m. - 2:00 p.m.
---

---
Please consider donating to the ministries of the St. Athanasius parish through the Giving Tree.
---