---
Regular Church Service Schedule"Welcome one another, therefore, just as Christ has welcomed you, for the glory of God." Romans 15:7
The St. Athanasius the Great Greek Orthodox Church in Arlington, Massachusetts strives to be a living witness of our Lord and Saviour Jesus Christ. Our mission as a Parish is to "Practice Hospitality" (Romans 12:13), as St. Paul so exhorts...... Thus, it is our rich blessing to strive and bring the Light of Christ to all of God's people, through Orthodox Christian tradition, education, and philanthropy. We seek to serve the spiritual needs of our faithful parishioners through the sacramental life of the Church. By means of outreach and faith in God, we continue our growth as a living Church by inviting others into the Orthodox faith through Baptism and/or Chrismation, and educating them through the establishment of our Christian ministries, programs, schools & philanthropic activity.
---
Regular Church Service Schedule
Orthros 8:45 a.m. - Divine Liturgy 10:00 a.m.
Sunday School Registration will continue through September
Great Vespers, Saturdays, 6:00 p.m.
---

---
Sunday School Registration
You may register for the upcoming Sunday Religious Education School year of September 2018 to May 2019!
Using this on-line link will bring you directly to the student enrollment form: goo.gl/LkbRzr
By completing and submitting the form, your child will be automatically registered. Additionally, if you are considering joining the teaching staff, we would love to hear from you.
Please contact George Makredes at Geo.Makredes@comcast.net with any questions.
Please Note:
For parishioners who prefer registering 'off-line', hard copy enrollment forms
will also be available
---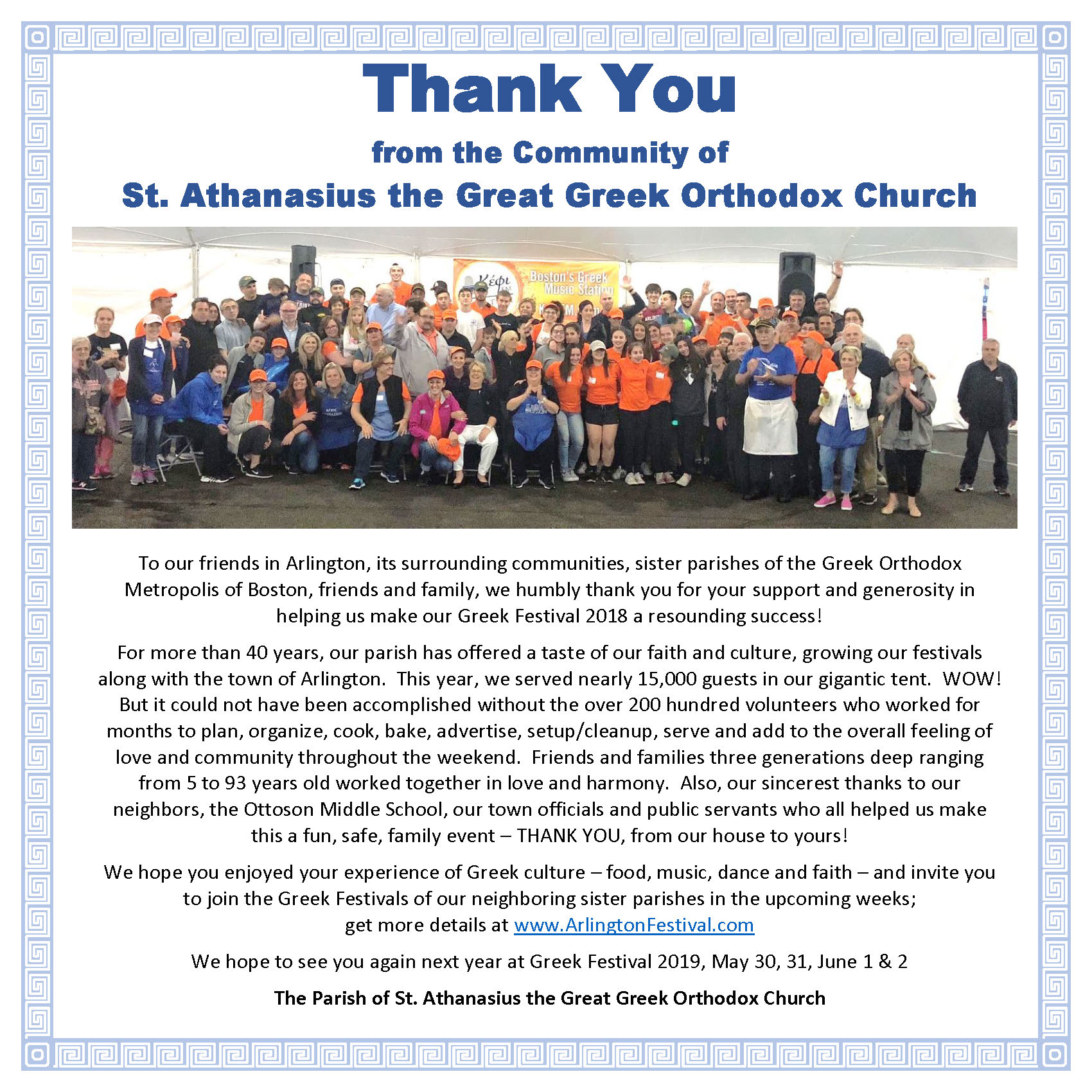 ---

---

View our Calendar
---
---
Parish Office Hours
Monday - Thursday:
9:00 a.m. - 6:00 p.m.
Fridays 9:00 a.m. - 2:00 p.m.
If there is NO SCHOOL due to Holidays or inclement weather, the Parish Office will be closed
---

---
Please consider donating to the ministries of the St. Athanasius parish through the Giving Tree.
---