Χριστος Ανεστη! Christ is Risen!

An Update on the Opening of our Church



From His Eminence Metropolitan Methodios:
If a parish, after careful and deliberate preparation, considers that they are able to meet all of the State and Local guidelines, they may begin to open their doors as early as this coming Sunday, May 24. >>> Continue reading here
---
Beloved in Christ, Christos Anesti – Christ is Risen!
Holy Pascha is quickly coming to an end. We have just completed the fifth week of Pascha, and begin the sixth week with the commemoration of the healing of the man born blind. Then on Wednesday, we will take leave of Pascha and prepare for the next great feast, the Ascension of our Lord.
I would like to share with you the wonderful news that we will begin opening the church to our beloved parishioners this Sunday, May 24! I look forward to welcoming all of you back on the last Sunday of Holy Pascha. It will be a blessed and moving time together, as we all join our voices to chant "Christos Anesti" and others hymns of the liturgy.
I know that this has been a difficult and trying time for all of us, especially regarding the mandatory closure of churches. As difficult as it has been for everyone, it has been equally difficult for me not having all of you participating in person. Thank God this phase of sheltering in place has come to an end. What we must emphasize, though, is that we cannot let our guard down and relax any of the guidelines that we have been provided; nothing has changed regarding the virus.
Please know that we will continue with the set-up we had prior to the closing of the church. The signs posted at the entries two months ago are still up, with the addition of new signs asking everyone to be masked upon entering the church. Once inside, you will again find hand sanitizer stations, as well as signage asking everyone to refrain from kissing icons or the gospel book.
It is important to note, as per the Archdiocese and our Metropolis, that nothing will be done differently regarding Holy Communion. Regarding antidoron however, it will be bagged so that parishioners may each take their own bag, both after Communion and after Liturgy. In the altar, precautions are being taken regarding hand washing and sanitation, as well as the use of gloves.
Lastly, pews have been taped off to allow six feet in front and behind occupied pews. The open pews also have taped markings every six feet to ensure social distancing. Of course, family members from the same household do not need to follow social distancing amongst themselves. The middle aisle has six foot markings to facilitate adequate distancing when approaching for Communion and antidoron.
I, together with our parish council, want everyone to be safe and stay healthy. Of course, it will require everyone's cooperation to achieve this, so let's all do our part. We look forward to seeing as many of you as possible this Sunday!
In the Risen Lord,
+Fr. Anthony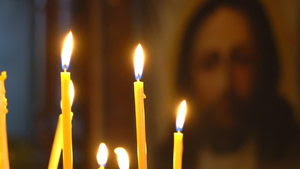 We understand that during this difficult time of the pandemic, it can be difficult to be physically away from your church. While we can pray from home, you may miss the ability to light a candle in church.
Let us light a candle for you at St. Athanasius.

"I am the light of the world; he who follows me will not walk in darkness, but will have the light of life." (John 8:12)
---
---

---

View our Calendar
---
Join our e-mail list to
receive our newsletter!
---
Regular Church Service Schedule
Orthros 8:45 a.m. - Divine Liturgy 10:00 a.m.
Great Vespers, Saturdays, 6:00 p.m.
Parish Office Hours
Monday - Friday:
9:00 a.m. - 2:00 p.m.
If there is NO SCHOOL due to Holidays or inclement weather, the Parish Office will be closed

---

---
Please consider donating to the ministries of the St. Athanasius parish through the Giving Tree.
---