We would like to thank the Town of Arlington, their Residents, neighboring towns, and other churches for supporting our Greek Festival 2021. We were so blessed with the attendance, weather, and welcoming smiles from all who entered. We hope everyone enjoyed our food and hospitality! Thank you also to our 2021 Sponsors who also generously supported us.
St. Athanasius the Great IS GROWING
We are expanding our Youth Ministries BUT, WE NEED YOUR HELP!
I need to identify someone who is willing to serve as our Sunday School Director
-We have very capable teachers
-We have children of all ages anxiously willing to learn their Greek Orthodox Christian Faith
-I need a dedicated Orthodox Christian who is willing to commit to directing our
Sunday School Program and assist us in:
-Overseeing the weekly Sunday School Program
-Collaborating with our Teachers and myself in educating our children
-Assist in creating a new platform for learning
-Assist in expanding our student base
Qualifications:
-Dedicated Orthodox Christian adult
-Ability to work well with teams and children
-Collaborate with Priest and Sunday School Staff in creating a sustainable, vibrant and engaging platforms for our students to learn
-Able to begin Fall 2021 but help us prepare in July-August 2021
If interested or if you know of someone who can assist us, please contact Fr. Bob at:
frarchon@saintathanasius.org
---
2021 PARISH COUNCIL OFFICERS
President - Stefanos Bouboulis
1st Vice President - Mike Terzakis
2nd Vice President - Elias Patoucheas
Treasurer - Peter Gennis
Treasurer 1 - Eleni Pesiridis
Treasurer 2 - Tony Dakopoulos
Treasurer 3 - Mark Ypsilantis
Secretary - Gary Makredes
Asst. Secretary - Vicki Konstandakis
MEMBERS
Kosta Arvanitis, Dean Ioakimidis, S. Nicholas Kriketos, Charlie Pappas, Peter Stanitsas, and Nicole VanKuilenburg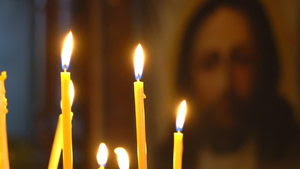 We understand that during this difficult time of the pandemic, it can be difficult to be physically away from your church. While we can pray from home, you may miss the ability to light a candle in church.
"I am the light of the world; he who follows me will not walk in darkness, but will have the light of life." (John 8:12)
---
---
ATTENTION
Please be aware of an email scam impersonating Fr. Robert Archon
Please

note that many parishioners have reported receiving an email from Fr. Bob asking for a favor and soliciting donations in the form of gift cards. These emails are a scam using a fake email account impersonating Fr. Bob. While the "From" name on the account uses his name, it is from an imposter gmail.com account.
Please disregard these emails, and do not respond to any such messages, as they are not from Fr. Bob.
Click here for more information on how to protect yourself from email scams.
---
Online Chapel
6th Wednesday after Pentecost

---

View our Calendar
---
Join our e-mail list to
receive our newsletter!
Regular Church Service Schedule




Orthros 8:30 a.m. - Divine Liturgy 10:00 a.m.
Parish Office Hours


Monday - Wednesday - Friday




10:00 a.m. - 2:00 p.m.



---

---
Please consider donating to the ministries of the St. Athanasius parish through the Giving Tree.
---