---
Special Message to Our Young Families
The past three months have been very difficult for all of us, especially during the mandatory closing of our church. It feels like a very long time since we've seen all of you, and of course, it probably feels even longer to your children who have a different sense of time. It is with this in mind that I wish to communicate some thoughts with you.
Now that it's summer, obviously many families will be vacationing or going away on weekends. On the weekends you're in town, I highly encourage you to come to church for everyone's spiritual benefit, especially your children. If our families stay away until September, then they will have missed one-half year of church attendance! With such a long hiatus from church, this can have some serious ramifications. At least with some periodic attendance this summer, we can all start working toward our regular routine of Sunday attendance.
Having said all this, I realize that many parishioners prefer staying away now because of the virus. Please rest assured that we have taken all the mandatory precautions in order to assemble safely. During these troubling times, we need our Church in order to find spiritual solace and strength. Please prayerfully considered what I have shared. Hopefully you'll make it a point to bring your children's smiling faces to church!
In Christ,
+Fr. Anthony
---
from the Parish Office

Dear Parishioners,

Welcome to the opening of our church! It is a blessing.
During the summer, the office is staffed from 10:00 a.m. to 2:00 p.m. Monday, Wednesday, and Thursday. During national holidays or emergencies, the Parish Office is closed. To book your sacraments or for information, call the office at (781) 646-0705 to speak with me or to leave a message with your name and telephone number. Please note that when you leave a message on the church phone, I am able to see it on my email as well, which I check periodically. You may also email me at stathanasiusgoc@gmail.com

Be safe; be well!
Stella Kazantzas
Parish Administrative Assistant
---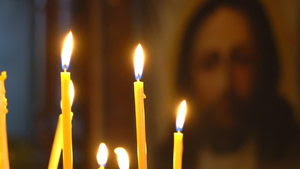 We understand that during this difficult time of the pandemic, it can be difficult to be physically away from your church. While we can pray from home, you may miss the ability to light a candle in church.
Let us light a candle for you at St. Athanasius.

"I am the light of the world; he who follows me will not walk in darkness, but will have the light of life." (John 8:12)
---
---

---

View our Calendar
---
Join our e-mail list to
receive our newsletter!
---
Summer Worship Hours
Sunday, June 7 - Sept. 7, 2020


Orthros 8:15 am, Divine Liturgy 9:30 am

Regular Church Service Schedule


Orthros 8:45 a.m. - Divine Liturgy 10:00 a.m.




Great Vespers, Saturdays, 6:00 p.m.
Parish Office Hours

Monday - Friday
9:00 a.m. - 2:00 p.m.
---

---
Please consider donating to the ministries of the St. Athanasius parish through the Giving Tree.
---